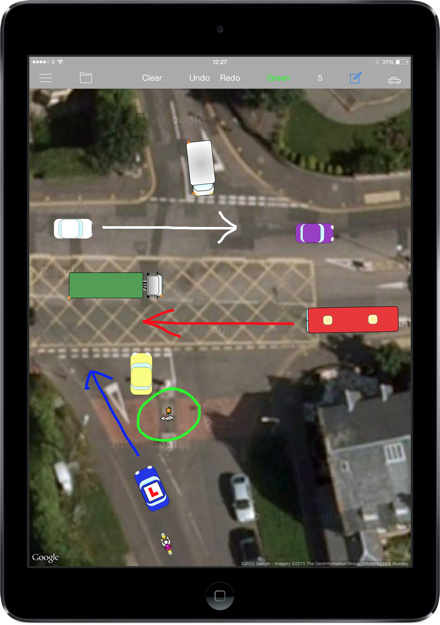 Road Pad for iPad
Road Pad is the ultimate tool for driving instructors!
• View a satellite image of any road or junction and use the built-in drawing tool to illustrate the image and instruct your pupil.
• Save your most commonly used images so they can be retrieved immediately, even when your network connection is slow or unavailable.
• Display and draw on any image from your iPad's photo library.
• Help your pupils to learn exactly what they should be doing in any given situation.
• Also provided is a blank drawing pad so you can easily illustrate anything that comes to mind.
How it works:
Your pupil has just made a dog's breakfast of a large roundabout. You pull over to the side of the road and open Road Pad. Select the satellite view and tap the location button. Road Pad will zoom in on your current position. Then simply pan the image over the roundabout, tap the draw button, and start illustrating how it should be done. It's that easy! If there are particular roads or junctions you find you need to illustrate regularly, these can be cached in your library for quick retrieval - regardless of network availability.
Please be aware: No guarantees can be made about the quality or resolution of satellite images in your area.
Road Pad enables you to choose between Google Maps and Apple Maps, so you can select the option with the best satellite images for your area. You can check the quality of the images available by using your iPad's built-in Maps app (for Apple Maps), and by downloading the Google Maps app from the App Store.
Location services and ability to download satellite images are dependent on a suitable network connection being available. You do not need a network connection to view saved images.
Use the buttons below to get it now on the iTunes App Store or the Google Play Store.
Only 2.99!
"A superb app which has proved a hit with my pupils."
App Store review by Marly22
"I love this app no more fiddling about with paper in the car"
App Store review by Janbry
"Very useful app. Well recommended."
App Store review by emerates