Excellent protection for your iPad
22/07/12 Filed in:
Accessories
A common dilemma that comes along with owning an iPad is how to protect it from scratches and bumps. Being incredibly thin and light are two of the best things about the iPad. Putting it inside a case only adds bulk and weight. A case also prevents you from using the handy iPad dock when charging.
I use the fantastic
Miniot cover
as a similar solution to Apple's Smart Cover for iPad 2. The Miniot offers the same functionality as the Smart Cover but is infinitely better looking and nicer to touch. However, this only protects the front of your device and leaves the back exposed.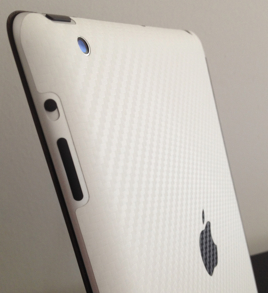 A great solution I found recently is
iCarbons
. I bought their
White Carbon Fiber
skin for my iPad and I love it. It's a thin, tough coating that sticks onto the back of your iPad, giving plenty of protection without adding noticeable bulk or weight. Fitting it is simple when you follow the instructional video on their website. Now I can put my iPad down wherever I like without having to check for the presence of abrasive substances which will scrape and scratch my beautiful device.
I also like the look and feel of my iCarbons skin. The iPad's smooth aluminium finish is hard to beat, but I actually prefer the look and feel of my iPad with its new skin. Its appearance is more interesting and I like the feel of the textured surface and the fact that it is not so cold as the aluminium.
Importing from the US, including postage, my iCarbons skin for the back of my iPad (you can get them for the front as well) cost a mere $25.90, or around £16.56 of your English pounds. Excellent value!